The Following Information was obtained from Wikipedia
Eric Wilson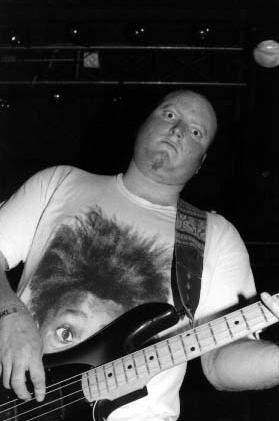 Eric Wilson (born February 21, 1969), was the bass player for Sublime (1988-1996) and also bassist for Long Beach Dub Allstars (1997-2002). He was the bassist for the band Long Beach Shortbus, which was composed of several members of Long Beach Dub Allstars and Sublime.
Wilson and Bud Gaugh met in 1979 and later started their first garage punk band, called The Juice Bros., consisting of drums, bass, and vocals;they founded Sublime in 1988 along with the singer Brad Nowell.

After the death of Sublime's lead vocalist Brad Nowell in 1996 which disbanded Sublime, Eric temporarily joined up with 60's style Surf-Rock band Del Noah & the Mt. Ara Ratfinks, with whom he played the stand-up bass. At the same time, Eric and Sublime drummer Bud Gaugh -- along with many friends -- started to experiment with the unique Sublime sound, eventually forming many Sublime-related bands, most of whom signed with the Long Beach record label Skunk Records. Eric plays in many of these follower bands. In 1997, Long Beach Dub Allstars formed, but broke up in 2002 due to alleged personal conflicts.

Long Beach Dub Allstars' first album was released in 1999 called Right Back (DreamWorks). Long Beach Dub Allstars' second album was released in 2001 called Wonders of the World (Dreamworks). He then joined a band with lead singer of Long Beach Dub Allstars RAS-1 called Long Beach Shortbus. The band later split for unknown reasons in October 2007. Eric currently plays the drums in a psychadelic rock band called StoneWing who will be on a 2009 tour of the Midwest and Colorado with Midwest Reggae Rockers Jon Wayne and The Pain out of Minneapolis MN. Eric Also plays in an Iggy Pop cover band called The STyMiES.
Floyd "Bud" Gaugh

Floyd "Bud" Gaugh (born October 2, 1967) is a rock music drummer who played in the bands Sublime (1988-1996), Long Beach Dub Allstars (1997-2002), Eyes Adrift (2002-2003) Volcano (2004) Del Mar (2006-present).
He met bassist Eric Wilson in 1979 and later started their first garage punk band, which was named The Juice Bros. They became founding members of Sublime in 1988. In 1996, Sublime ended due to the death of lead singer Bradley Nowell from a heroin overdose. The Long Beach Dub Allstars then formed in 1997. Their first album was released in 1999 called Right Back (Dreamworks).

Gaugh played drums in the Eyes Adrift with Krist Novoselic and Curt Kirkwood. After Eyes Adrift disbanded, he went on to form Volcano with Kirkwood. Since Eyes Adrift, Gaugh now spends his time at his home in Nevada, snowboarding, skating, skiing and kayaking in Colorado and Lake Tahoe and plays in a band called Del Mar. Del Mar was started in 2006, and plays classic surf rock.
Bradley James Nowell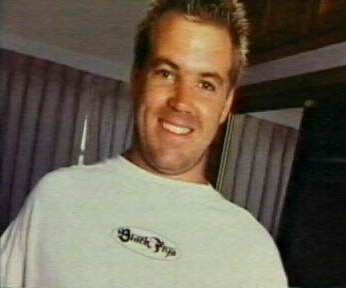 Bradley James Nowell (February 22, 1968 – May 25, 1996)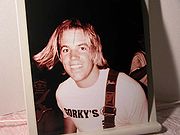 Young Bradley Nowell performs with his band.
Music was an integral part of Nowell's upbringing. Brad's father, Jim Nowell, was fond of Jimmy Buffett and often played guitar during family gatherings. On holidays, Brad often played guitar and sang with his father and uncles for hours. Brad was often able to play a song on the guitar after hearing it only once. He developed a love for reggae music when his father took him on a trip to the Virgin Islands.
Career with Second Sight
In 1982 Bradley had joined a band called Second Sight in the 9th grade at Wilson High school in Long Beach California, with singer Roger Topp, bassist Dave Hegstrom, and drummer Andy Troy, Bradley played the guitar. Roger and Dave then kicked Bradley out of the band in 1984 or 1985. After they kicked Bradley out of the band they also kicked Andy out and Dave changed to guitar, and Bud Gaugh joined the band as the drummer. Second Sight didn't make any albums. Bradley took guitar and singing lessons, and three years later Eric, Bradley, and Bud formed Sublime.
Career with Sublime
In 1988, Nowell founded Sublime with bassist Eric Wilson and drummer Bud Gaugh, whom he had met while attending Cal State Long Beach. Sublime eventually became one of the most popular bands in Southern California. Specifically, they were the most popular band on the campus of Cal State Long Beach, where they often played at parties and bars.
In 1989 Nowell and Michael "Miguel" Happoldt created Skunk Records, the label for which Sublime's early recordings were produced and distributed. Skunk Records was named for Sublime's combination Ska and Punk genre, hence the name "Skunk". The band's demo tapes were later sold at shows and local record stores. A few years later, Sublime produced its first studio recording, which resulted in the popular cassette tape called Jah Won't Pay the Bills and released it in 1991.
As Nowell prepared to tour with the new material, he found that Gaugh was battling a drug problem. Gaugh soon decided to check himself into a drug rehabilitation center. Rather than tour without Gaugh, the trio decided to focus on recording their music in the studio.
In 1992, 40 Oz. to Freedom was released. Drummers Marshall Goodman and Kelly Vargas temporarily covered for Gaugh. Sixty-thousand copies were distributed and sold from the trunk of Nowell's car. Despite growing popularity in Southern California, Sublime still had not landed a record deal with a major label. (Around this same timeframe, Nowell teamed up with longtime friend Gwen Stefani, of fellow Southern California ska band No Doubt, to record the single "Saw Red". The single was eventually released on Sublime's Robbin' the Hood album.)
Frustrated by rejection of the major record companies, Nowell descended into a two-year heroin "experiment". Nowell claimed that his heroin use was justified, claiming it aided his artistic creativity, thereby increasing the likelihood that his material would attract the attention of a major label.
About a year later, Tazy Phillipz took a copy of 40 Oz to Freedom to Los Angeles radio station KROQ, requesting that Sublime's "Date Rape" be added to the playlist. Soon after, MCA records picked up 40 Oz. to Freedom for nationwide distribution. The album soon entered the Billboard charts.
Attention from a major label did not curb Nowell's drug use. His use of heroin increased. He had been known to sometimes pawn his guitars to support his habit. Miguel would have to go find the pawn shop and buy the guitars back. His song Pawn Shop was written about these incidents. Nowell's struggles with addiction were occasionally reflected in his artistic work. The song "Pool Shark" is one of the most obvious examples of Nowell's drug dependency being referred to in his music: "Take it away but I want more and more, One day I'm gonna lose the war".
In February 1996, Sublime returned to the studio to record the bulk of their self-titled major label debut album. Production was done by Paul Leary (producer of Marcy Playground and Meat Puppets) of the Butthole Surfers at Willie Nelson's Pedernales Studio in Austin, Texas. At this time, Nowell's addiction was about as bad as it had ever been. He spent about four thousand dollars on heroin that month while recording the tracks. Leary often feared that by putting out this record he would be exploiting a junkie. Nowell was flown home early from the sessions due to the extent of his drug use.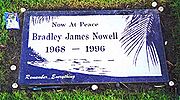 Bradley Nowell's headstone.
Seven days after Nowell's marriage to Troy Dendekker, Sublime embarked on a five-day tour through California cities in preparation for a summer tour of Europe. The European tour was intended as a means of promotion of their upcoming major label debut album. On May 25, 1996, after a show in Petaluma, the band was scheduled to head up north. That morning, Bud woke up to see Brad half in bed, with his feet on the floor. At first, Gaugh assumed he had been too intoxicated to get into bed; however, further inspection allowed him to notice a green film around his mouth, and it became obvious that he had overdosed. He called for paramedics, but Brad had been dead for hours, and was pronounced dead at the scene. Nowell's last performance took place at the Phoenix Theater in Petaluma, California. Nowell was cremated and his ashes were spread over his favorite surf spot, Surfside, California. A headstone was placed at Westminster Memorial in Westminster, California in his memory.
A few weeks after Nowell's death, fellow Southern California band No Doubt headlined a "cautionary" benefit concert in tribute to Nowell. Nowell's widow and the various bands who performed wanted to make it clear that they were not glamorizing the way that Nowell died, but that they wanted to celebrate his life as well as establish a college fund for his son, Jakob.
In a January 11, 1997 Los Angeles Times article titled "Cautionary Concert in Rocker's Memory", writer Jerry Crowe quoted No Doubt bassist Tony Kanal as saying: "Obviously, it's going to be very emotional because you're there playing a show to commemorate a good friend who died and died for very wrong reasons. But you're also there to change things for the future and prevent stuff like that from ever happening again. A lot of times we hear about musicians using drugs and it's so blasé and cliched. You just kind of say, 'Oh, he'll be fine. Somebody will take care of him.' But that's not true. It's important for every single one of us to stand up and say, 'Enough of this shit.' It's time to make a difference".
Jason Westfall, one of Sublime's managers, was quoted as saying that the surviving members of Sublime had no interest in continuing to perform and record under the "Sublime" name. "Just like Nirvana, Sublime died when Brad died", Westfall said.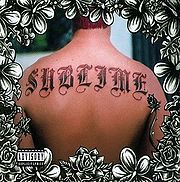 The cover of Sublime's major label debut album.
In light of Nowell's death, record executives considered not releasing Sublime's major label debut album. After some debate, the album was eventually released, though the album's original title, Killin It, was substituted with an eponymous title. Sublime's major label debut album Sublime was released on July 30, 1996.
By 1997, the album entered Billboard's Top 20, and its first single, the largely acoustic hip hop-influenced "What I Got", soon became the number one song on the Modern Rock chart. Throughout 1997, the album produced three more radio hits: the ballad "Santeria", the anthem song "Wrong Way" and the George Gershwin-inspired song "Doin' Time". The accompanying music videos from Sublime for radio hits including "Santeria", "What I Got", and "Wrong Way", received heavy rotation on MTV, with previously filmed footage of Nowell performing live interspersed into the video, completely naked, which was highly controverisal at the time.
To the surprise of many, Sublime became arguably the most successful, posthumous American rock act of 1997. The album Sublime has since sold over 75 million copies. Danin says, "he will live inside all of us and will influence the music careers of many."
Relationships
Marriage and Fatherhood
While on tour in the mid-1990s, Nowell met Troy Dendekker. Dendekker grew up in Southern California, in a home with a drug addicted mother and a father who was also a drug user and a member of a motorcycle gang. In an interview, Dendekker, who has considered a career as a drug and alcohol counselor, stated that she loves addicts because they are ultimately kind people. Dendekker has also said she does not have anger towards her parents regarding the way she was brought up because, as she phrased it, her parents were "real".
In an interview with Rolling Stone magazine, Dendekker said that Nowell was very happy and pleasant to be around when he was under the influence of substances, but added that he could be very difficult when not under the influence. The goal, Dendekker said, was to try to have Nowell be as happy sober as he was when he was high. To that end, Nowell attempted detoxification and drug rehabilitation several times, but such treatments usually had short-lived success which usually disappointed Nowell's family and friends. Bandmate Bud Gaugh tried to be supportive of Nowell in his recovery, and occasionally in his usage. Gaugh has said he tried to be Nowell's "conscience", and in some cases Gaugh tried to be Nowell's "drug buddy."
On June 25, 1995, Dendekker gave birth to their son, Jakob James Nowell. In an attempt to better fulfill his compounding responsibilities as both husband and father, Nowell again attempted to overcome his drug dependency, but was unsuccessful.
Lou Dog


Lou Dog on the cover of a Sublime box set compilation.
Named after Nowell's grandfather Louie Nowell, Nowell's King Louie, or "Lou Dog" as he was often called, was Nowell's pet Dalmatian who became something of a mascot for the band Sublime. Lou Dog was often allowed to wander the stage during live Sublime concert performances. Louie was also often featured on the cover of Sublime albums, and was often referred to in the lyrics of Sublime songs. The first lyrics Nowell sings on Sublime's major label debut album are, "We took this trip to Garden Grove/It smelled like Lou Dog inside the van". In Sublime's most successful radio track, "What I Got", Nowell sings, "Livin' with Louie Dog's the only way to stay sane." He also mentions his Dalmatian in the song other times, like in the lyric "I got a Dalmatian, and I can still get high" as well as "I don't cry when my dog runs away." The song "Doin' Time" also refers to Lou Dog in the line "Me and me and Louie, run to the party".
In the early 1990s, Lou Dog disappeared for a week. In a video directed by Josh Fishel of Bargain Music Sublime — Stories, Tales, Lies, & Exaggerations, Troy Nowell (Bradley Nowell's widow) says that for the week during which Lou Dog was lost, Nowell spent a great deal of time lying on the couch crying in response to the loss of his dog. Lou Dog was eventually returned to Nowell, who, in response to the situation, later covered the Camper Van Beethoven song "The Day That Lassie Went To The Moon" and changed it to "Lou Dog Went to the Moon" ; this song is available on the Nowell bootleg "Firecracker Lounge". While Lou was missing, Nowell also recorded this song to his home answering machine as a sort of audio lost dog poster.
Following Nowell's 1996 death, Lou Dog was cared for by Miguel. Lou Dog died on September 17, 2001.